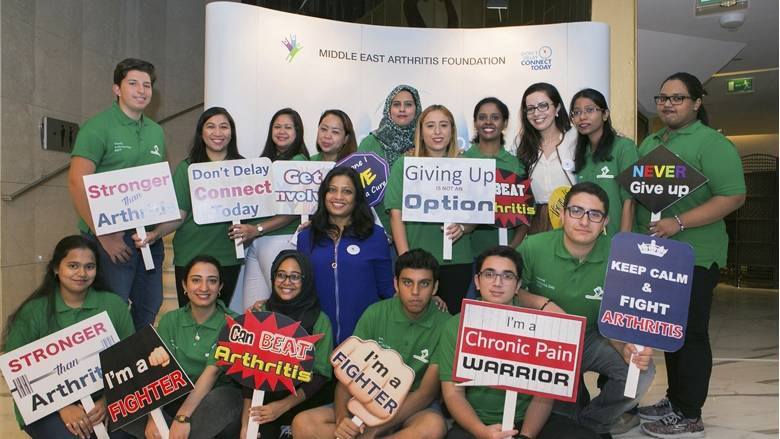 11 Oct

MEAF to host free activities on World Arthritis Day
More than 50 million people around the world have been diagnosed with some form of arthritis.
The Middle East Arthritis Foundation (MEAF) has announced that it will hold a public community event on October 11, at the Shangri-La hotel, Dubai to mark World Arthritis Day 2019 (WAD).
Dr Humeira Badsha, founding Member, Middle East Arthritis Foundation said: "Our goal is to educate, support and motivate patients of arthritis and their families, and we hope to do that through annual events such as these. Too many people today believe that it is impossible to lead a normal life with arthritis, but we want to show patients and their families that with the right nutrition, lifestyle changes and medical treatment, it is indeed possible. We want to empower patients to take control of their lives."
Filled with practical tips, medical advice and more, the day-long event will include various activities including Tai Chi. Tai Chi has been proven to reduce arthritic pain as it gently moves all joints, muscles and tendons throughout the body during the course of practice. Additionally, scientific studies have shown Tai Chi can significantly increase flexibility, improve muscular strength and as well as decrease the occurrence of falls by 47.5 per cent. There will also be group discussions on how to overcome the challenges of arthritis, a dance and movement session, a mind-and-body-connectivity session, sound nutritional guidance as well as free scanning of hands for arthritis and of bone density for osteoporosis at the venue.
The highlight of the day will be personal testimonials and insights from arthritis patients from various walks of life. These patients will share their stories of the courage and determination that has helped them fulfil their daily duties, hold a job, raise families and more. Attendees will hear from a student, a stay-at-home mother and a working mother, all of whom are bound together by the common thread of arthritis.
There are more than 100 different forms of arthritis and related diseases, with the most common types being osteoarthritis (OA), rheumatoid arthritis (RA), psoriatic arthritis (PsA), fibromyalgia and gout. All of them cause pain in different ways.
Sanria Khan, an active member of the Middle East Arthritis Foundation said: "There is a tendency for patients suffering from arthritis to feel like they are alone and that their lives have changed beyond all recognition. This can really dampen their spirit. Therefore, events such as these are a great way to boost their morale, show them that they are not alone and guide their families on the best way to support them. With proper care and treatment, it is definitely possible to lead a productive and fulfilling life."